Jacket: Kmart; Shell: Ann Taylor: Jeans: Ann Taylor Loft;
Shoes: Jessica Simpson; Necklace: Ann Taylor
I apologize for the indoor photo but by the time we got home Friday night it was pouring down rain. As you can see from my jacket below, I tried to take photos in the rain, but they didn't turn out. As a result, I was water logged, my hair was a mess and I look a little haggered!
This is a jacket I purchased in early spring from Kmart. I blogged about several key items I found on their site
here
and I finally got around to styling this past week. Even though this was featured as a spring jacket, the colors are perfect for fall/winter. The neutral pallette of the fabric with a mix of olive green and khaki stripes looks rich with the chocolate t-neck shell. It will also play well with chocolate pants and a denim shirt. And it's cotton so you can layer anything underneath and not worry about getting too warm.
Love the raindrop spots, don't you? Note to self, don't play in the rain with fashion! Leave that to models and their expert photographers. I taped Rachel Zoe on QVC last Friday night and she featured a military jacket as part of her Luxe Rachel Zoe collection. She said a military jacket is always a must have. I love that I'm on trend with Ms. RZ! That's MAH-JOR!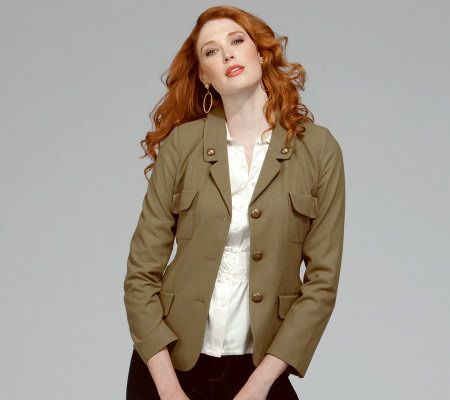 Once this was paired with dark jeans and a silk shell, would you guess that this jacket was part of Kmart's line? No, right? See, you don't have to spend money to look luxe and trendy! Read your monthly fashion mags and do your research to find the trend at a much lower price. You really can shop on a budget and not look like you did! Would you wear Kmart now?
Rachel Zoe Jacket Photo courtesy of
QVC
.