The last fall trend on The Zoe Report's Fall Trend list was chokers. Chokers and statement necklaces are still a huge trend and I love it! They can add pazazz to an otherwise dull outfit. And, they come in all shapes, sizes, colors and textures. Invest in one or two, but not more than that. You will find that you reach for the same one over and over again because of how special it is. I have actually collected a few over the past year or so and I find that I go for the same ones! Here are my examples:
Rachel Zoe has her own line of accessories on
QVC
and several chokers to choose from. This a great horseshoe choker and it comes in silver and gold!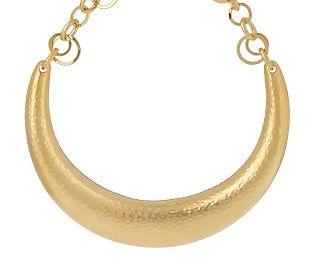 Well, that's it! Four fall trends to watch for and I was four for four!! Not sure if that means I'm trendy or just a follower. Whatever it makes me, I love that I'm in sync with THE Rachel Zoe! BANANAS!